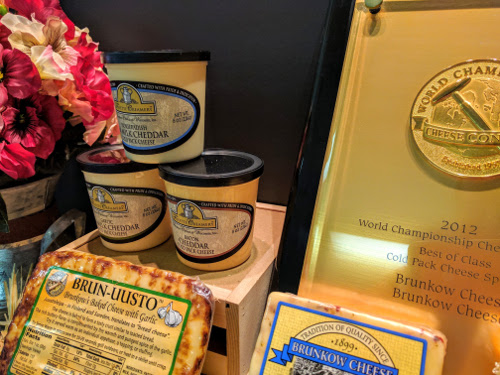 Fresh "Squeeky" Curds
12 Year Aged Cheddar
10 Year Aged Cheddar
6 Year Aged Cheddar
3 Year Aged Cheddar
2 Year Aged Cheddar
Sharp Cheddar
Medium Cheddar
Mild Cheddar
Kalamata Olive Cheddar
Horseradish Cheddar
Monterey Jacks
Monterey Jack Cheeses are semisoft with a buttery-ivory color and a mild flavor. Named after its creator, David Jacks, a cheesemaker near Monterey, California. Jack cheese has high moisture and good melting properties making it good for sandwiches and cooked dishes.
Jalepeno Pepper Jack
Habenero Pepper Jack
Firehouse Jack
Mushroom and Onion Jack
Cold Pack Cheese Spreads
Soft, buttery and spreadable, our cheese spreads compliment any meal whether you spread it on crackers, your burger bun or use it in your bloody mary's, our spreads are guaranteed to satisfy!
Bacon Cheddar Spread
Sharp Cheddar Spread
Jalepeno Pepper Spread
Horseradish Spread
Garlic Spread
Swiss Almond Spread
Cranberry Spread
Cheddars
Chedder Cheeses are our most popular cheese; cheddar cheese originated in the village of Cheddar, England. A firm, cow's milk cheese that ranges in flavor from mild to sharp and can contain a variety of flavor combinations. As cheddar slowly ages, it loses moisture and its texture becomes drier and more crumbly. You will notice the sharpness of cheddar beginning at around one year of age and it can continue to age for many years; here at Brunkow Cheese, we have cheddars that range in age from 60 days to 12 years.
Specialty Cheeses
Fayette Creamery
Avondale Truckle
Little Darling
Pave Henri
Bruun-uusto Baked Cheese
-Plain
-Pizza
-Jalepeno
-Bacon
-Garlic
-*NEW* Hatch pepper (limited avail.)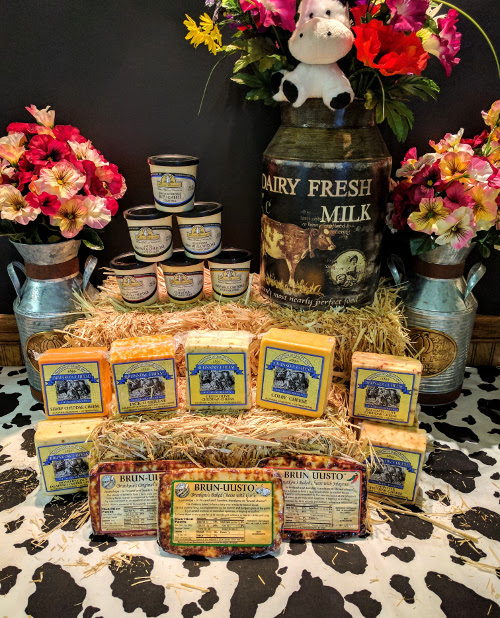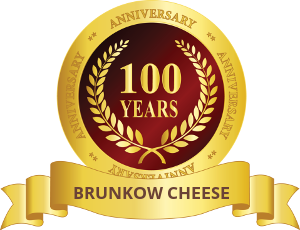 Brunkow Cheese Factory
17975 County Hwy F Darlington WI 53530 US Phone: 608-776-3716 Open M-F 7:00 a.m. - 3:00 p.m.